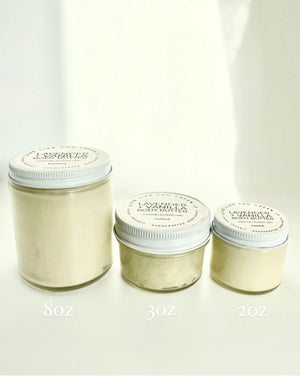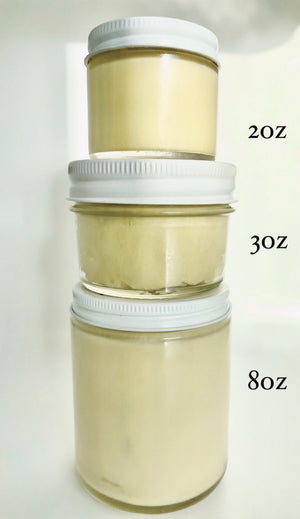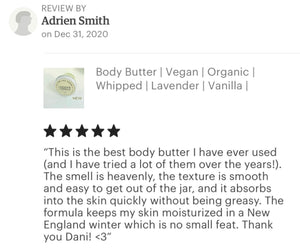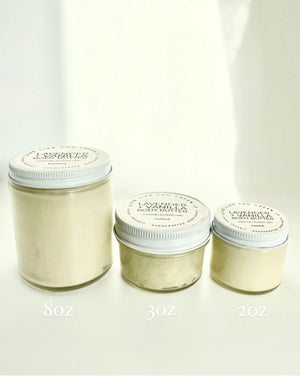 Body Butter | Lavender & Vanilla | Dry Skin Savior | Shea, Mango & Cocoa Butter | Eczema & Psoriasis Relief
Nothing can compare to the ever-popular blend of lavender and vanilla. This classic scent just got even better with the addition of natural resins that combat anxiety and dry skin.
They deepen an otherwise sweet, soothing, floral bouquet, with notes of warm caramel. This intoxicating fragrance, combined with a light, fluffy, creamy texture, adds a hint of luxury to healing dry skin.
LLYGI Lavender + Vanilla Vegan Whipped Body Butter is coconut oil free and has a deeply moisturizing base of three whipped organic butters:
〰️ Shea Butter- Cold-pressed, raw and organic butter rich in antioxidant vitamins A and E that heal and protect skin from damage. It also contains natural anti-inflammatory properties that benefit inflammatory skin conditions such as eczema and psoriasis.
〰️ Cocoa Butter- Fatty acids such as oleic, palmitic and stearic acids fight against oxidative stress for younger, healthier skin. Known to reduce signs of skin aging, discoloration and stretch marks.
〰️ Mango Butter- High in Vitamin A, C and E that assist in collagen production, the building block of youthful skin. Mango butter also contains polyphenols such as mangiferin, a strong antioxidant that may reduce one's risk of certain types of cancer.
Added to this moisturizing powerhouse are organic oils for an antioxidant boost, calendula infusions for eczema relief, plant waxes for sealing in moisture, and natural clays for a quickly absorbing, non-greasy skin feel.
Scent: Floral, Calming, Sweet, Deep, Caramel-like
2oz, 3oz and 8oz reusable glass jars.
Instructions: Apply to dry skin as needed. A little goes a long way.
〰️ Live Like You Green It is a collection of vegan skincare products consciously formulated with the finest organic ingredients & environmentally safe packaging (glass, aluminum & paper). Each product is handcrafted with intention & style. LLYGI is a solo-female + Black-owned shop.〰️