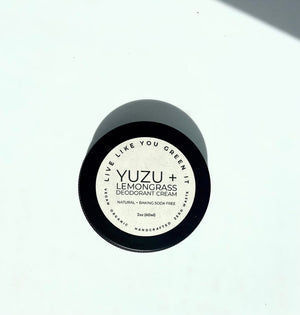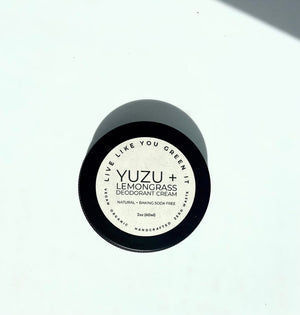 Deodorant That Works! | Yuzu & Lemongrass | All Day Protection | No Baking Soda Or Aluminum
We believe you deserve better deodorant. Thousands of happy customers agree that Live Like You Green It natural deodorant works!
Our deodorant cream applies like a dream with its smooth application and non-greasy feel. We've got your back with a special baking soda-free formula that keeps you protected, dry and odor-free all day long. It feels good to live natural; it feels great to Live Like You Green It!
We don't sweat for harmful or toxic ingredients. Our deodorants are free of:
- Aluminum
- Baking Soda
- Parabens
- Plastic
Instead, our deodorants are made with simple, organic and vegan ingredients that nourish your skin and support your health:
- Organic Shea Butter
- Organic Shea Nut Oil
- Organic Arrowroot Powder
- Organic Essential Oils
- Candelilla Wax
- Magnesium Hydroxide (naturally occurring mineral)
Effective deodorant for women, men and kids. Pregnancy safe. 
Choose your scent: Yuzu & Lemongrass is our most gender neutral, crowd pleasing scent. 
What does it smell like?
After a long, dusky walk at the tail end of fall, coming home to a crackling fire and hot chocolate with the little floating marshmallows from your youth. Warm, inviting, sultry and cozily familiar. 
Other deodorant scents to try: Grapefruit & Geranium, Tea Tree & Lavender, Unscented
- Net Wt: 2oz or 4oz
- Deodorant Subscriptions Save $ 
- Free Shipping Orders $50+ 
- Carbon Neutral
- 30-Day Satisfaction Guarantee: Try our deodorant

alone

for 30 consecutive days. If you are not satisfied with the results after 30 days, we'll give you your money back. 
Commonly Asked Questions:
How Does Natural Deodorant Work?
Natural deodorant is not an anti-perspirant. There are active ingredients to kill bacteria and keep you dry. You will still sweat but you will not feel wet.

Do I Need To Detox My Armpits Before Using Natural Deodorant?
No. With our deodorant there is usually an easy and seamless transition that doesn't require detox or a period of strong body odor.
Do I Have To Reapply During The Day?
Yes and no. If you are new to natural deodorant, you may need to in the beginning as your sweat glands release aluminum salts (the build up of anti-perspirant ingredients from your old deodorant). For most people, you only have to apply once.
Give this product 30 days of consistent use alone with no other deodorants, and you will see results.
How Long Does This Deodorant Last?
You will have all day protection. 2oz tins last most people 2-3 months.
Is Natural Deodorant Safe For Kids?
Yes! All scents are safe and recommended for kids, men, women and pregnant mamas.
Can Natural Deodorants Stain Clothes?
Some brands do. Ours do NOT.