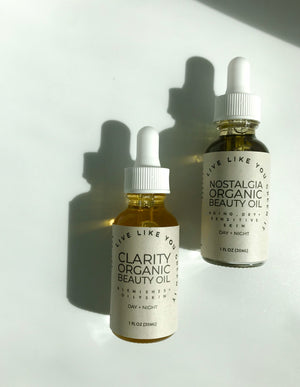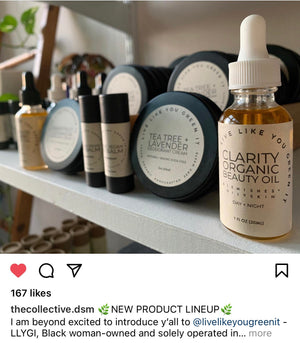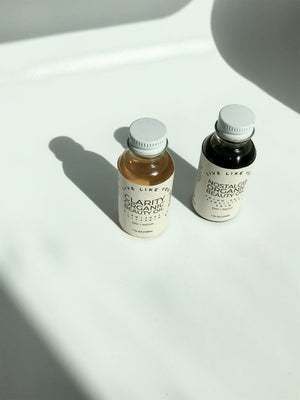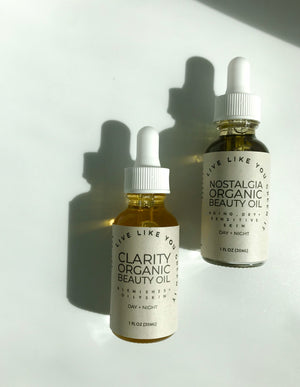 Face Oil Bundle | Day & Night Oils
It takes a leap of faith to try your first skin oil, but once you do, there's no going back.
Beauty oils are antioxidant rich moisturizing powerhouses that are not diluted with water, emulsifiers, stabilizers and preservatives that make up the majority of traditional cream and lotion formulations.
You get all of the good stuff, minus the fluff, directly to the skin issues that need it most.
Clarity Organic Beauty oil is a quick absorbing oil formulated with oily skin in mind. It targets acne causing bacteria with organic Neem oil, a pilar of traditional Ayurvedic medicine. Organic melaleuca and patchouli further help to reduce breakouts and gently fade skin discoloration.
This beauty oil is a great multi-tasker and can be used on skin and beards, day and night. It is recommended as the daytime moisturizer in this skin healing duo.
***Clarity Organic Beauty Oil can be found at zero waste shops around the country including Package Free Shop and The Collective DSM.
* Clarity Organic Beauty Oil 1oz
- Balances Oily Skin, Prevents Acne,
Heals Blemishes, Gently Fades Discoloration
Nostalgia Organic Beauty Oil is a savior for dry, sensitive and aging skin. Formulated with generous amounts of deeply moisturizing organic pomegranate seed oil, it is a slower absorbing beauty oil that is perfect for any nighttime anti-aging routine.
For dry skin types, Nostalgia can be used both day and night. All other skin types are recommended to use Nostalgia as the nighttime moisturizer in this skin healing duo.
Nostalgia has been a big hit this winter season!
* Nostalgia Organic Beauty Oil 1oz
- Deeply Moisturizes Dry Skin, Soothes
Sensitive Skin, Prevents Aging with
Antioxidant-Rich Organic Oils
You can find Nostalgia at The Collective DSM and Earth & Me NYC.
LLYGI is a zero waste company. The ONLY plastic we sell are our white dropper tops. Please reuse them or opt to buy this skin set with aluminum tops instead. Help us to reduce plastic waste!
〰️ Live Like You Green It is a collection of vegan skincare products consciously formulated with the finest organic ingredients & environmentally safe packaging (glass, aluminum & paper). Each product is handcrafted with intention & style. LLYGI is a solo-female + Black-owned shop.〰️