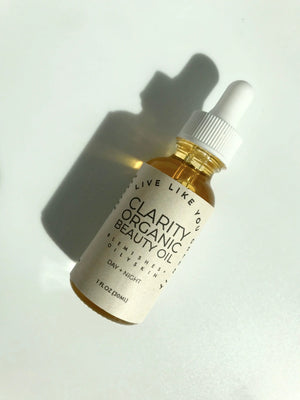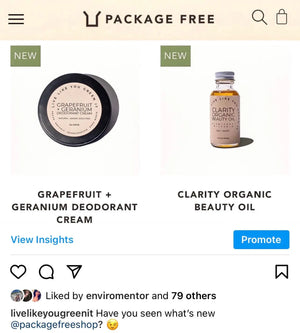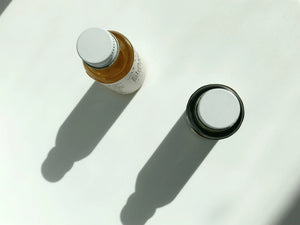 Clarity Organic Beauty Oil | Oily Skin Moisturizer | Acne Oil | Complexion Brightening
CLARITY ORGANIC OIL SERUM: Acne, breakouts, blemishes & scars don't stand a chance against this powerful, yet gentle face oil.
CLARITY is specially formulated for skin issues that need to be cleared quickly & gently. It is a perfect, light daytime moisturizer for all skin types, but oily and acne prone skin will find CLARITY especially game-changing.
Face oils are highly concentrated, antioxidant rich skin moisturizers. Because they are free of filler ingredients and preservatives, you see noticeable results fast.
Here are 8 ways CLARITY will boost your skincare routine:👇🏾
1. Amp up other skincare products with a few added drops of oil.
2. Apply everyday to balance oily & dry skin.
3. Use as an oil cleanser to remove oil-based makeup & dirt.
4. Apply as a natural primer under foundation.
5. Can be used as a spot treatment.
6. Look younger with antioxidants to prevent & heal skin damage.
7. Get glowing skin simply when used alone.
8. Bonus: Even use as a beard oil or as a quick fix hair treatment on dry ends/scalp.
Don't worry- a perfectly formulated face oil will not leave your skin greasy! CLARITY will actually reduce your natural sebum production, brighten your complexion, and leave you with clear, balanced skin.
A face oil is THE skin product you didn't know you were missing. . . until now. Oh, and it smells incredible. 💐
Natural Scent Profile: Calm + earthy with a light citrusy top note.
Are you ready to take your skincare routine to the next level? ✅
~ Use both day and night. Suitable for ALL skin types. Especially great as a daytime moisturizer for all skin types because it is light & absorbs quickly. Will NOT clog pores. -Lasts up to 6 months with everyday use.
Live Like You Green It is 100% vegan, organic, non-toxic, small-batch, plastic-free, handcrafted & female operated. ZERO WASTE PACKAGING: Reusable and recyclable amber glass bottle & rubber/plastic dropper. Compostable and recyclable paper label. Clarity Organic Oil Serum/Net 1oz (30ml) HOW TO: Apply ~5 drops of oil serum to clean, damp skin. Gently massage until fully absorbed. Join the Green Community on Instagram & Facebook @Livelikeyougreenit. All art by Dani :)