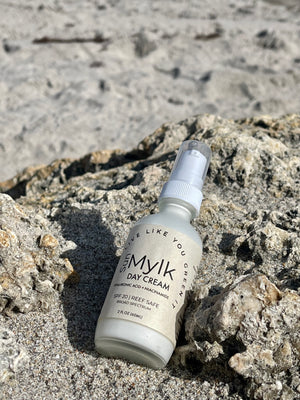 Skincare Routine Set: Happy Skin Bundle- Cleanser, Moisturizer + SPF
Introducing Calm Cleanse and Sun Mylk- two of our most requested products. You've already come to know and love LLYGI beauty oils. Now, make your sustainable facial routine complete with our newest cleanser and youthful aging cream with SPF. 
Calm Cleanse is a 100% plastic and soap-free cleanser. We decided to take the harsh ingredients and the work out of cleansing. This micellar and organic rose hydrosol cleanser is seriously easy to use. Stay calm, reach for your cotton pad and cleanse. Remove makeup, dirt, oil and more with this simple toning and cleansing water.
What are the many uses for Calm Cleanse?:
1. Cleanser
2. Makeup Remover
3. Toner
4. Aftershave
After cleansing, follow up with one of our holy grail beauty oils. These beauty oils can be worn day and night, under makeup or on bare skin.
You can choose a Happy Skin Bundle that comes with Nostalgia Beauty Oil or Clarity Beauty Oil. Not sure which bundle to choose? Here's a breakdown of which oil will be best for you:
***Nostalgia*** Dry, Aging, Normal or Sensitive Skin types benefit most from this beauty oil. It contains deeper penetrating, yet quickly absorbing oils that maintains lasting moisture. Blue chamomile gives this crowd pleaser extra soothing and anti-aging benefits. 
***Clarity*** Acne, Oily and Scarred Skin benefits most from this beauty oil. This blend absorbs very quickly and is formulated to reduce your natural sebum production, reduce acne causing bacteria and gently lighten hyperpigmentation.
No day time skincare routine would be complete without SPF, however most sunscreens on the market use chemical sun blockers such as Avobenzone and Oxybenzone that are no good for your skin or the environment. Many people are also discouraged by the weird smell and white cast. 
Enter ****Sun Mylk Day Cream.***
This day cream smells like a gentle rose breeze. It contains reef safe zinc oxide that is a mineral sun shield for your skin. It is lightweight, non-greasy and will leave zero white cast. What makes it even better? Sun Mylk also contains hyaluronic acid and niacinamide (B3), two anti-aging powerhouses that draw hydration to the skin and fight fine lines. This dream cream has it all!